The Regal™ Pellet 500 PRO's body is constructed from 2mm / 14 gauge steel with 625 sq. in. primary cooking surface, 240 sq. in. stainless steel secondary cooking surface, and heavy-duty 9mm stainless steel cooking grids. The Wi-Fi® and Bluetooth®-enabled digital interface provides enhanced temperature control to smoke, roast, or sear. This innovative product comes fully equipped with a powerful auger, 22 lb capacity pellet hopper, removable drip tray, 2 electronic meat probes, stainless steel rotisserie kit, and our patented Roto-Draft™ damper system. The Regal™ Pellet 500 Pro also includes a fuel sensor, fold-down front shelf, and locking casters.
865 SQ.IN. 
TOTAL COOKING SPACE
3-PIECE GRIDS 
SOLID STAINLESS STEEL
600F / 200F 
MAX/MIN OPERATING TEMP
STAINLESS STEEL 
SIDE SHELF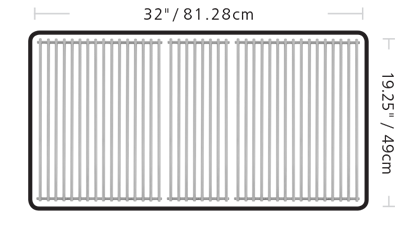 PERFORMANCE GRILL FEATURES
A clean burn pot ensures consistent performance and sifts ash easily into the ash catcher, which forms part of the Pellet Grill's ash management system. Regularly remove ash to for better performance. The ash sifter ensures that your burn pot is ready to perform with every cookout, without needing to remove your cooking grids and heat plates. *Patent Pending Design
The Regal Pellet Grill's high-capacity 22 lb (10 kg) pellet hopper holds an entire bag of pellets, plus the roughly 2 lbs that you may have left over from your last cookout. On the back of the hopper you'll find the dump-out access hatch from where you can easily empty out the pellets when you want to change up the flavor, or simply to prepare for long-term storage of your grill.
Two stainless steel electronic meat probes connect directly to the Broil King® controller allowing you to monitor not only the grill temperature but also the temperature of the food you're cooking. Watch the progress on the digital control screen or Broil King® app!
Featuring a deluxe, WiFi and Bluetooth®-enabled appliance control panel, the Broil King® pellet grill is at the command of your fingertips. It displays the current and target temperatures for the pellet grill as well as two temperature probes. Three integrated quick-set buttons enable you to easily select a smoke, roast or grill setting while appliance-style toggle buttons let you select the temperature in either broad, 10-degree increments, or more precise, 1-degree increments. The ultra-bright, angled back-lit screen is designed to be easy to read during the day or at night.
The heavy-duty stainless burn pot is designed to let your Broil King® pellet grill reach a scorching 600°F (350°C); perfect for searing steak. The burn pot's venting system quite literally generates a small cyclone of searing fire. To take the heat while delivering the best possible performance, the burn pot is crafted from extra-thick stainless steel and has an overall diameter of 3.5 inches (8.89 cm).
Combined with the powerful 15,000 BTU stainless steel rear burner, the Broil King® rotisserie is perfect for slow roasting even large cuts of meat. The kit includes a sturdy spit rod, two heavy-duty meat forks, a unique counter-balance mechanism, and a powerful motor with an auto-reverse function. Use the incredible range of control to get the perfect golden brown results.
Download the Broil King® app for the full Broil King® pellet grilling experience. The app lets you control your grill from anywhere so you can set target cooking temperatures, start cooking programs, and even browse pellet grill recipes and FAQ's. All Broil King® Pellet Grills are Bluetooth® and WiFi-enabled, extending your signal range from your backyard to the lumber yard. If you have a cellular signal, your pellet grill is just the touch of a button away.